MEXICO AUTHENTICITY + INTUITION RETREAT
You were meant to be here, so be here on purpose. You are 1 in 8.6 billion! That is a miracle! You are THE ONLY YOU. Let's find out what that means and how to best honor it! This retreat is designed to empower you with YOU. You are the expert in you. Tim and I would love to guide you back to you and teach you how to best listen to the real you so you can keep you around and deeply fulfilled for a very long time. 
We're all born intuitive. It's just that your intuition comes in as a whisper, which can be easy to miss when it seems life is constantly shouting at you. We've been conditioned to listen to the shouts of life and tune out the whispers of our intuition. In this retreat you will learn how to reduce the outside noise, turn up the volume on your intuition and utilize it as your own personal navigation system through life! The wisdom and exercises we'll be sharing are the exact practices that got me from dentistry to the healing arts, diet pills and disordered eating to self-love and mental freedom and from external validation to inner peace and self-loooooove! (watch my story here)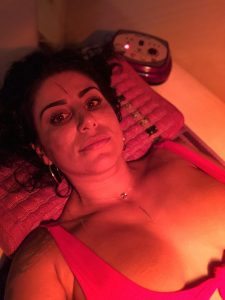 Expect a shift in consciousness, a deeper understanding of yourself and mastery over your energy field. Students world-wide agree, this material helps increase your confidence, clarity and zest for life! You'll gain life skills, life hacks and perhaps a few life-long friends. We believe the age of the guru is dead. This retreat will help you get back to yourself over and over again through all the blessings, challenges, changes, and situations life has to offer you.
All ceremonies, journeys and experiences are multi-layered and dynamic. This retreat is an immersive blend of meditation, movement, metaphysical healing, journaling and journeying. There will be herbal tinctures, acupuncture, cupping therapy, flower essences, smudging, essential oils, philosophical discussions, intuition exercises, hiking, optional massages, profound transformation and more.
Their mouth-watering vegan menu is a fond memory I have been revisiting *often* since 2018 when I led a self-love retreat here.
The place is on the literal beach (dreams!), has the most epic sunsets and Lucy and her team are the very definition of hospitality! The rooms are spacious, beautiful and private- which I especially appreciate as an introvert who loves synergy and community. Come! 
The early bird discount ends February 15, 2020.
THE ITINERARY 
Saturday, May 30 
Opening Ceremony to transmute the past and open ourselves up to being powerfully present for the retreat. Do expect meditation every day of the retreat. Healing modalities today will include cupping therapy, amethyst crystal mats and infrared light therapy.
Surprise special guests; your spirit guides!
*Please note, participation is always optional and voluntary. You're here for you! You do you.
Sunday, May 31
Today is all about authenticity. You'll gain an experiential understanding of what your truth is and how it feels in your body. We have a specially curated herbal formula to help you with this and we'll be offering you the exact acupuncture point protocols to help you access your truth. You'll have a chance to hone your intuition, receive an energy reading and offer readings. By the end of the day, you'll be completely connected to your intuitive gifts and talents!
Monday, June 1  
Now we've got authenticity, we're going to protect it with powerful boundaries rooted in self-love and compassion.
We'll explore the city of Sayulita, where you'll have some free time for shopping, exploring, or to receive a massage before we gather on the beach for a healing circle. We'll learn a couple of new energy tools to the sound of the waves crashing behind us. The practices you're here to learn are life skills so what better way to master them than in real life? Put your new skills to the test and use them in reducing the volume of the hustle and bustle surrounding you. Be your most authentic self regardless of situation or circumstance. Learn how to choose you with all you do.
Back at the villa, every night is a great night to enjoy one of the crystal bio-mats or infrared lamps! 
Tuesday, June 2
Today is POWERFUL. We will embody what it is to actualize and sustain our most authentic selves. Like, this is it. This is you forever formula to being true to yourself!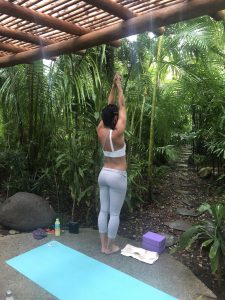 After breakfast, we'll pack our lunches and hike beautiful mountain Cerro del Mono. Mountain tops offer literal elevated perspective. After releasing and destroying all that no longer serves you, you're in the prime position to consciously create all your heart desires! We'll embody the vast horizons into a powerful manifestation meditation with our feet on the ground, our head in the clouds and our sights set on expansion. You'll be introduced to THE visualization that's helped actualize homes, husbands, wealth, health, and exponential joy for thousands of beautiful souls clear across the world! We've saved the best for last! We're going deep. We'll be coupling the energy tools with essential oils, herbal tinctures and other exercises and modalities to align us with our pure potential on every plane of existence.
Enjoy a post-hike dip in the pool, or soak in the sauna before or after another beautiful sunset dinner back on our property.
Wednesday, June 3
We complete our retreat to the theme of acknowledgement and celebration. Our Closing Ceremony includes a self-worth and receptivity exercise to help us truly embody all our gifts and talents, align with our passion and purpose and shine on like the bright stars we were born to be.