We all have questions, and we all have the answers. Read through, and the answers shall find you. If they don't ~ contact us here.
welcome to nuurvana! we are thrilled to have you here! 
by visiting our site and/or purchasing something from us, you engage in our "service" and agree to be bound by the following terms and conditions ("terms of service", "terms"), including those additional terms and conditions and policies referenced herein and/or available by hyperlink on other site pages. by using our services, you agree to be bound by these terms and conditions. this is a legally binding agreement. you acknowledge that your use of the services constitutes the use of an electronic signature. your use of the services after your initial acceptance, even if these terms of use change, demonstrates your continued acceptance of these terms. these terms of service apply to all users of the site, including without limitation users who are browsers, vendors, customers, merchants, and/ or contributors of content.
by accessing, using any part of the website or services such as healing labs, healing circles, activist circles, group meditations, sessions, readings,  and/or purchasing access to any nuurvana courses ("online courses"), and/or the mentorship program, you agree that you have read, understood and agreed to be bound by these terms, which contain liability limitations. this website and all services are intended for people over the age of 18.  if you are under the age of 18, do not use this site and/or any of our services. If you are younger than 18, we do believe you are the future and we have some fun things coming for you later!
if you do not agree to be so bound, you may not access or use the website, online courses, events, or mentorship program. we reserve the right to refuse any order you place with us.
about the terms
we may modify the  terms at any time. each time you visit or log into our website, purchase services of any kind, and/or participate in any free nuurvana offerings, you reaffirm your acceptance of these terms. you are responsible for regularly reviewing the  terms. the terms are supplemented by additional terms and conditions applicable to privacy, and may be supplemented by additional terms and conditions applicable to specific areas of our website, or to particular content or transactions posted in particular areas of our website. if you do not agree to these terms, please immediately cease use of or access to our website and/or any serivces. 
cancellations & rescheduling policy
while we don't take ourselves too seriously, we absolutely take our work together seriously. we implement a strict 48-hour cancellation/rescheduling policy in honor of this shared sacred space we create together.
please cancel or reschedule appointments at least 48 hours prior to your scheduled session time. all appointments missed or not cancelled within this time frame will be charged in full.
you may cancel your appointment through the calendar invitation or email reminder you've received. scroll down to the bottom of that communication for links to both cancel and reschedule.
healthcare disclaimer
nuurvana center inc. and products are not intended to diagnose, treat, or cure any psychological or medical conditions.  our programming and services, including, but not limited to, nu it school and all content therein, individual sessions, group sessions, healing circles, activism circles, classes, our social media outputs, and our website may include information and instruction relating to psychological and overall emotional and mental well-being, hypnosis, nutrition, nutritional supplement suggestions, exercise and fitness, and some of the products and services available through our website relate to such topics for informational purposes only. you acknowledge and agree that the following warnings and disclaimers shall apply to all such information, instruction, products and services (henceforth "our services").
prior to, during, or after your participation with our services, you may receive guidance or correspondence related to things being beneficial for you. in the sharing of this information, there might be things you can do or steps you might take that can be beneficial to you.  know that whether or not you take certain actions is entirely up to you and within your own consultations of your own scope of care.  nuurvana is not responsible for any actions you take as a result of or in response to any of our services. 
before participating in any diet or exercise program or using any diet or fitness products or services that may be described and/or made accessible in or through our services, we strongly recommend that you consult with a physician or other professional healthcare provider before beginning any services or trying any products or recommendations. nuurvana center inc., its staff and the content-providers are not rendering personal medical and/or psychological advice or treatment. nuurvana staff and its community (students, clients, guiding lights, healers) have no expertise in advising on, diagnosing, examining, or treating medical or mental health conditions of any kind, or in determining the effect of hypnosis, psychological or any wellness services or any specific exercise or diet supplement on a medical condition. by using the services, you further represent that you understand that physical exercise involves strenuous physical movement, and that such activity carries the risk of injury. it is your responsibility to ensure that by participating in classes and activities from nuurvana, you will not exceed your limits while performing such activity, and you will select the appropriate level of classes for your skills and abilities, as well as for any mental or physical conditions and/or limitations you may have.  you understand that, it is your sole responsibility to determine if any such suggested adjustment or equipment is appropriate for your level of ability and physical and mental condition. you acknowledge and agree that when participating in any diet, exercise, herbal, or exercise program, and/or when using any diet or fitness products or services, there is the possibility of physical injury and/or death, and you assume the sole risk and responsibility for any such activities. our services and website, including all content therein, shared 1:1, in digital content or coursework, in group settings, or in any other communication channel, are not meant to be substitutes for medical advice from your physician or health care provider or any information contained on or in any product packaging or label.  nuurvana makes no warranties, express or implied, as to the completeness, accuracy, or appropriateness for any purpose of any information or content contained on our website or the online courses. you are advised that health advice is often subject to updating and refining due to medical research and developments. we are committed to bringing you the most up to date information, however, we make no guarantee that the information herein is the most recent on any particular subject. 
you should never disregard medical advice or delay seeking it because of a statement you have read on our website and/or heard in our services. our website and the services should not be used in lieu of advice given by qualified medical professionals such as your physician or registered dietitian. it is important that our websites and the services are used only in conjunction with qualified medical guidance. if you know or suspect that you may be pregnant, have an eating disorder, have diabetes, or have any other physical or medical condition, it is imperative that you seek the advice of your physician  prior to using our website and/or the services. if you experience any discomfort or pain during a diet or exercise routine you must immediately cease the activity and seek the assistance of a physician.  
based on the foregoing, nothing contained on the website or other products or services offered by nuurvana center, inc. should be construed as any form of such medical or psychological advice or diagnosis. without limiting anything set forth herein, you expressly waive and release any claim that you may have at any time for injury of any kind against nuurvana, or any person or entity involved with nuurvana, including without limitation its directors, principals, instructors, independent contractors, employees, agents, contractors, affiliates, its community (on collaborative sites such as nu it school or instagram/social media channels) and representatives.
limitation of liability
in no event, to the fullest extent permitted by applicable law, will nuurvana, its affiliates or their respective officers, directors, employees or representatives (collectively "nuurvana" for purposes of this section) be liable for any indirect, incidental, special, consequential or punitive damages resulting from the performance, use of or the inability to use the website, or services, even if nuurvana has been advised of the possibility of such damages, whether in an action in contract, tort (including negligence), strict liability, violation of statute or otherwise. nuurvana will not be liable for the cost of services, loss of revenue or loss of good will.
in any event, our aggregate liability will not exceed the amount paid for the service(s) to which the claim relates or, if the claim does not relate to a service, $100.  this provision is not intended to exclude liability that we may not exclude under applicable law.
because some states or jurisdictions may not allow limitations on the duration of implied warranties, or limitations on or exclusions of consequential or incidental damages, some of the above limitations may not apply to you depending on your state or nation of residence.
indemnity
you agree to defend, indemnify and hold harmless nuurvana, its affiliates and their respective directors, officers, employees and agents (the "indemnified parties") from and against any and all claims, damages, losses, liabilities and expenses (including attorneys' fees) incurred in connection with any third-party claim brought or asserted against any of the indemnified parties: (a) alleging facts or circumstances that would, if true, constitute a violation of any provision of these terms by you; (b) alleging bodily injury, death, property damage or other damages arising from your or a third party's use or misuse of any purchase of service or transaction on this website; (c) arising from or related to any other party's access and use of the services with your unique username, password or other appropriate security code (if such codes are required to access services in the future); (d) arising from or related to our use of your user content or feedback in the context of our services; or (e) arising from, related to, or connected with your use or misuse of the website or our services. we may, in our sole and absolute discretion, control the disposition of any such claim at your sole cost and expense. you may not settle any such claim without our express written consent. Except in the case of gross negligence or malpractice, I or my representative(s) agree to fully release and hold harmless nuurvana its affiliates and their respective directors, officers, employees and agents (the "indemnified parties") from and against any and all claims or liability of whatsoever kind or nature arising out of or in connection with my session(s).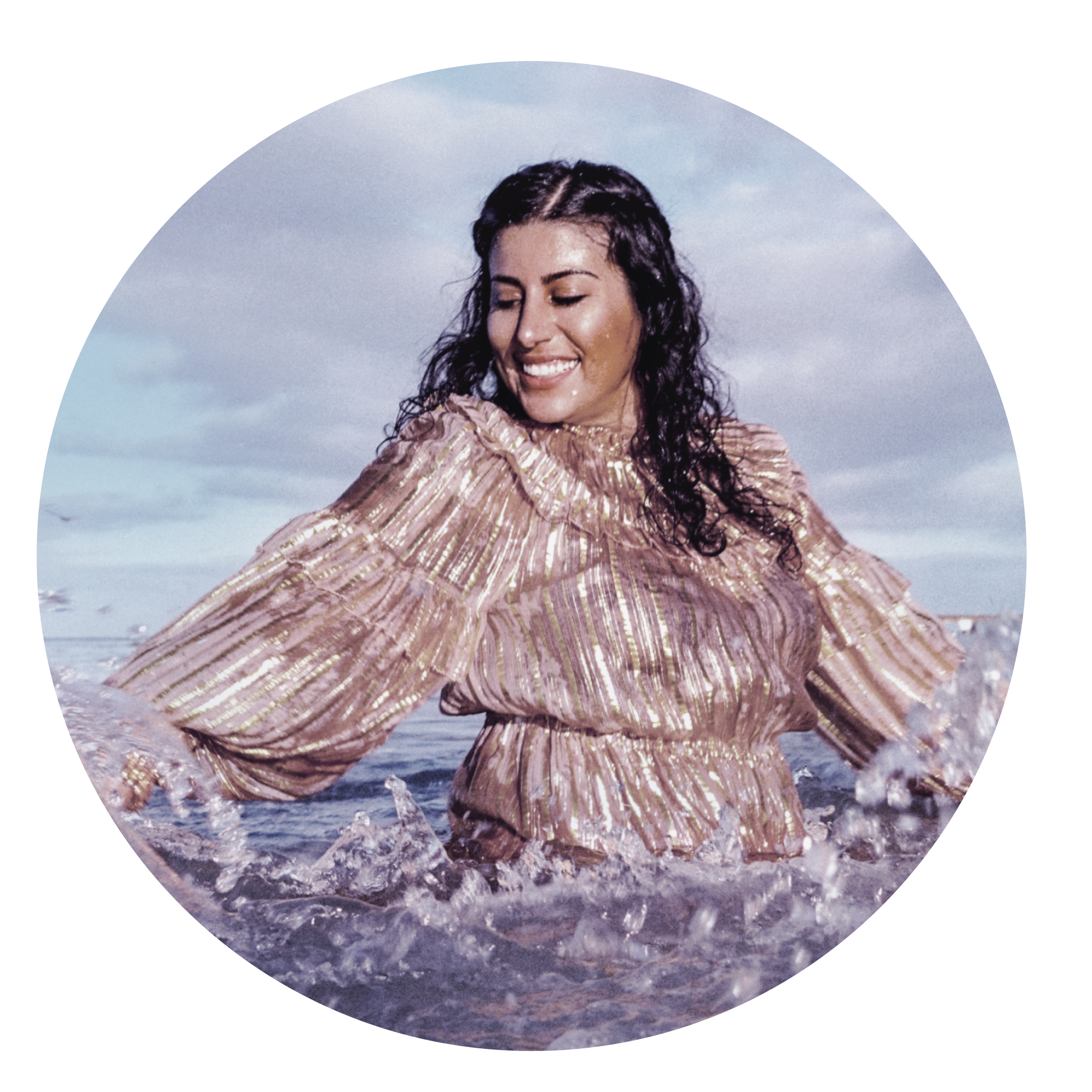 meet our founder
Dr. Deganit Nuur is a world renowned spiritual teacher, clairvoyant, doctor of acupuncture, writer, and lecturer.
Besides being named "Top 15 Intuitives Globally" by Gwyneth Paltrow's publication, goop, Nuur has been featured in
The New York Times, Vanity Fair, Vogue, and Forbes amongst other reputable publications.